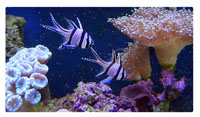 Don't settle for second best when it comes to your aquarium. Aquatic Solutions is so confident that we can provide you with a healthy, stunning aquarium we are able to offer you the best guarantee in the industry!


Livestock:
Our regular maintenance customers enjoy the peace of mind that only comes with Aquatic Solutions new addition warranty. Once we introduce your new specimen we warranty its health for two weeks. We are able to do this because our livestock is hand picked by professionals and quarantined to reduce the risk of complications. Additionally after we provide service we warranty the health of everything within your aquarium for 24 hours. Please let us know of any casualties within the covered time period to receive full consideration. Other losses are assessed on a case by case basis.
Livestock added to the aquarium acquired from a source other than Aquatic Solutions will void our warranty on all livestock in the system.
Decorative/Cleaning:
If you are not happy with how your aquarium looks after the service we will address and correct the situation for free. Since you will have the same technician on a monthly basis we will get to know you and your personal tastes.
Emergency Service:
We guarantee to respond to your emergency in a timely manner, generally within just a few hours. This policy extends to nights and weekends for major emergencies!
Disaster Policy:
If our customers suffer a complete or near-complete loss of livestock due to a situation that is unable to be controlled, generally referred to as "Acts of God". We will replace the lost livestock at our wholesaler's prices.
If we find that the loss is due to general neglect or abuse we will be unable to cover those losses.