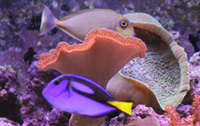 Aquatic Solutions believes in providing an accurate upfront bid of the maintenance or the installation of your aquarium.
Your bid for the installation of your new aquarium can be provided within just a few days, depending on the design and custom specifications.
Maintenance services are calculated by taking many aspects of your aquarium into consideration, i.e.: the size and type (salt or fresh), access, filtration, and number of visits per month required to properly maintain your aquarium. An accurate maintenance bid will be provided on site after consultation.

Shopping our price with other providers? Please make sure you are comparing apples to apples when doing so. Our price covers much more than just cleaning your aquarium. See why our customers say our service is head and shoulders above the competition.

What is included in your service:
Water change.
Gravel Vacuum (fresh water).
Water quality tests, as needed.
Clean aquarium glass inside and out.
Add needed Chemicals and Salts.
Servicing all pumps and filters.
Inspection of livestock for disease, or any complications.
Arrange decor to your tastes and create a comfortable habitat.
Quarterly complete redecorating service (freshwater and fish-only salt systems).
Freshwater flake foods (Additional charges apply for saltwater grade flake foods and frozen foods).
Carbon/Phosphate medias.
Needed filter medias (pads/filter sleeves/media bags).
Top off Ro/Di water – saltwater systems only.
Expert advice for the day to day care of your investment.
Our top of the line guarantee.
No hidden charges: Many companies require you to purchase the tools and chemicals needed to service your aquarium. Not us! We will arrive equipped with our own professional grade tools, salts and chemicals. This saves you not only money but also unneeded "aquarium clutter".

Service is always conducted in a professional, clean manner and can be arranged to fit your busy schedule.